Show Notes: The All-of-Us Express Quarterly Newsletter - July 1, 2020
Greetings from the All-of-Us Express (AECT) non-profit Board!
We appreciate you signing up for our quarterly newsletter, and will use this to keep our members and the community informed about upcoming events, behind the curtain action, and ways you can help us bring amazing children's theatre opportunities to the Lansing area.
Please forward this email on to interested readers, and if you're not subscribed, sign up now!
---
In this newsletter:
2020-2021 Season Shows (not yet announced)

COVID Strategy

Board Initiatives

Annual Member's Meeting

Fundraising
---
2020-2021 Season Shows
There is a slate of shows that Artistic Director Liz Cooke is working with at the moment that are nearly finalized. The shows will be announced on AECT social media very soon. Please follow these accounts.
COVID-19 Strategy
The AECT non-profit Board is made up of parents who love the AECT programming opportunities for our children. We are just as desperate for arts engagement for our kids as all of you. As you all know, we are in the Michigan Recovery phase and are following the State and City guidelines for reopening our productions.
This means that our 2020-2021 shows are scheduled, but may be subject to the new limitations around public gatherings. We do not yet know what those are, but in our partnership with the City of East Lansing, we will work to keep families informed about what to expect, and how the requirements will change our typical process.
In the meantime our Virtual offerings are going strong. Here's a shot of one of our recent groups doing theater online.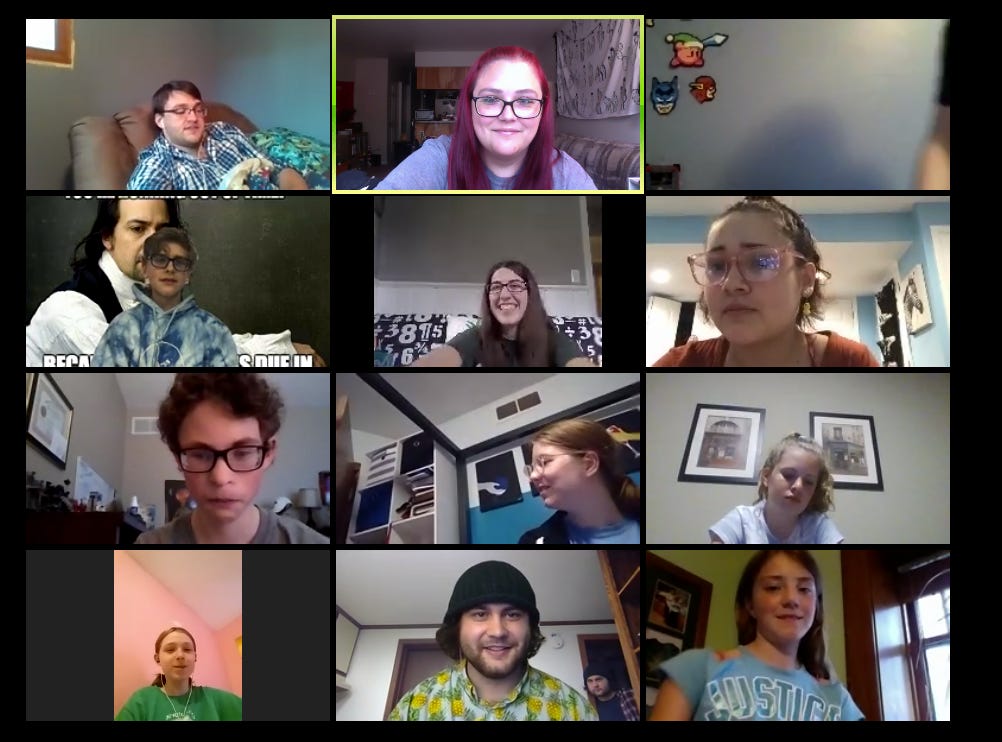 Summer Camps
The City is putting on several virtual Summer camps, and our main goal as a Board has been to support those efforts with grant funding, and working with grant organizations to apply the funds to these programs.
Scholarships
The AECT Board is providing a significant number of scholarships for Summer Camps and our main stage productions. If your family has economic needs that prevent you from being able to pay full price for camps, please indicate that you are seeking scholarship funds when signing up for programming. These funds are for the community to use for this exact purpose, and we will work to help where we can.
Board Initiatives
The AECT non-profit Board is working on several ongoing initiatives including fundraising for staff, scholarships, and production needs. We are also working on a new Strategic Plan. Last year we came to a new agreement with The City of East Lansing, and with that relationship secured and revitalized, the Board is ready to prepare our longer-term goals.
Our most pressing goal is BOARD RECRUITMENT. Wow, that's in big bold letters! Serving on the AECT non-Profit Board is an incredible gift of your time and skills. The Board is stronger when it is larger, as your expertise can contribute in very meaningful ways with just a few hours of work a month.
Inquire about how to get involved at contact@allofusexpress.org
---
Annual Members Meeting
We are planning our Annual Meeting with a full report of the 2019-2020 activities including participation numbers, fundraising and expenditures, and future initiatives. Please look out for more information about this meeting and attend.
The annual meeting is for all members, and your participation helps keep AECT running. This meeting will be help on Zoom, and we will send an invite out using this newsletter. If others you know would be interested in learning a bit about what AECT is up to, the Annual Meeting is a good place to jump in and learn. Forward this newsletter to your friends and have them sign up!
---
Fundraising
Fundraising is a critical Board task. It helps keep program fees affordable, opens up more opportunities for more kids through scholarships and mentors, and gives people who care about AECT a chance to participate in different ways.
Our traditional grant writing fundraising has been modified by COVID as well. Grants from the RE Olds Foundation for use in Fantastic Mr. Fox we are working to convert to another production. The RE Olds foundation is very helpful in this challenge and we appreciate their support. In the end, they really want funds to go to family programs, so we're working to make that happen.
This quarter we have two new fundraising initiatives that you can participate in.
Recycling Can Drive - We have been posting in neighborhood associations, on Facebook, NextDoor, etc announcing that we will pick up your cans and bottles. With the essential services quarantine in effect many people did not have anywhere to put their cans. If you reach out to contact@allofusexpress.org to set up a time, we will happily come and get those cans for you, then use the proceeds to fund AECT. So far we have raised over $1000.00 in donations this way. Huge thanks to our stellar Jeff D'Valentine for thinking of and driving this initiative.

Donation Links - Many online services donate a portion of their revenue to nonprofits. Here are some ways you can donate to AECT just by using websites. Each site has instructions where you can complete tasks or sign in with a special link to send proceeds to AECT. The funds are appreciated, and it is very easy to set up.
You can also always donate directly through PayPal, or send us a check. This year we have received more direct donations than ever before, and it is your generosity that keeps our programming amazing. Thank you, no matter if you are a member, an audience member, or if you donate a significant amount. All of us matter and help All-of-Us Express thrive.
---
Thank you for signing up for our quarterly newsletter. Please forward this email on to interested readers, and if you're not subscribed, sign up now!
---